Using a scaled aerial photograph, your property can be mapped to give you the grower, your staff, contractors and suppliers a clear visual reference to work from.
As simple or as detailed as you like, your map can identify:
variety blocks and plantings
buildings, amenities, roads, tracks and boundaries
natural water supplies and irrigation bores
power supply and cables, overhead or underground
windsocks, windmills, rainfall gauges
fencelines
hazards
any other feature you require
Need something else? Just ask - we'll figure out how to do it.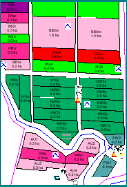 View sample map


Email Deanna at deanna.corbett@agfirst.co.nz or phone (06) 872 7080 to discuss your needs.